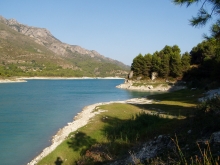 Benimantell shares one of the most privileged areas of the Alicante province with its natural surroundings with the rest of the Guadalest Valley towns.
The Sierra de Aitana is known for its variety of flowers and aromatic plants. More than 1,200 species of higher plants have been cataloged with many endemisms, among which we can highlight jewels such as the Cistanche phelypaea and the Teucrium lepicephalum .
The nature of the valley takes on very special characteristics between the end of January and the beginning of March when the thousands of almond trees that cover these beautiful mountains magically open their flowers and flood the terraces of the mountains with spectacular white.
The Sierra de Aitana, together with the Sierra de Serrella and the Puig Campana was declared SCI (place of community interest) . In the shade of La Aitana there are different protected areas due to their botanical interest,  the flora micro-reserves. 
In addition, the mountains of the valley are part of the zone declared of Special Protection of Birds (ZEPA) .
The Guadalest Reservoir that extends its waters through the terms of Benimantell, Castell de Guadalest and Beniardà requires special mention. This beautiful natural setting offers many possibilities for enjoyment and even refreshment in its emerald waters.
As for fauna, you can find the wild boar, fox, weasel, hedgehog, horseback, squirrel, badger, rabbit … and it is increasingly easy to bump into cliffs and cut from the highest areas of the mountains, the imposing Arruí or Mouflon of the Atlas.
If we look at the sky we will be able to observe eagles, hawks, kestrels, owlets … Blackbirds, bee-eaters, great titers, goldfinches, robins, partridges … in the pine forests and crops. Sparrows, starlings and swallows in the village.
Among the reptiles are the Ocellated Lizard, the Lizard, the Ladder Snake and the Bastard Snake. And amphibians the toad, the frog and the common gecko among others